Filter by Category
Foreign Language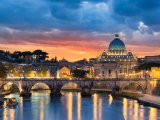 Italian for Travelers
with Julia Russell

Sep 25, 2018 at 5:30 pm

, runs for 10 weeks
For travelers who want to enrich their Italian experience. Develop a solid foundation through basic grammar and simple conversation. Discuss travel tips and Italian customs. Julia is a former student at the Michelangelo Institute in Florence and the Center for Italian Studies in Naples.
Tuesday, Sept. 25 - Nov. 27, 5:30-7 p.m., 10 Sessions
Course Fee: $105
Registration Unavailable
Registration Unavailable
Speed Spanish
Price not
available
with ed 2go
Imagine yourself speaking, reading and writing Spanish. Now you can with Speed Spanish! This course is designed for anyone who wants to learn Spanish pronto. You'll learn six easy recipes for gluing Spanish words together to form sentences. In no time at all, you'll be able to go into any Spanish speaking situation and converse in Spanish. ¡Qué Bueno!
To register or for more details visit:
https://www.ed2go.com/kae/online-courses/speed-spanish?tab=detail