Portsmouth Naval Shipyard: From Sails to Atoms
with Joseph Gluckert

Sep 26, 2019 at 9:30 am

, runs for 1 week

0 miles away
Portsmouth Naval Shipyard has a venerable heritage and rich tradition.  Learn about its role and achievements in times of war and peace from a military historian's perspective. The tour will begin ...
Will run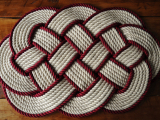 Marlinspike Seamanship-Nautical Art-Nov.
with Gene Reil, Mid-Coast School of Technology Adult Education

Nov 5, 2019 at 6 pm

, runs for 6 weeks

> 100 miles away
With tips and guidance from the instructor and two texts for reference (Marlinspike Sailor by Herbie Garret Smith or Des Pawson's more recent Knot Craft), learn to manipulate various types of rope to ...