Filter by Category
Music & Dance
Beginner Swing Dancing (6-Count Swing/Lindy Hop)
with Jennifer Kain

Feb 26, 2020 at 6 pm

, runs for 6 weeks
Beginner swing dancing is fun, active, and social! You don't need a partner and you don't need any experience. This 6-week progressive session will cover the basics of 6-count swing/Lindy Hop. A practice session follows the class. Students should wear comfortable clothing and bring clean, smooth-soled shoes to change into at the class venue to keep the floor clean. Class meets at The Dance Hall, 7 Walker St., Kittery.
6 Wednesday sessions
Feb. 26- April 1, 6-7 p.m.
Course Fee: $64
Spruce Up Your Ukulele Playing!
with Duncan Perry

Apr 6, 2020 at 6 pm

, runs for 2 weeks
Is your ukulele playing getting rusty? Here is your chance to refresh your knowledge and re-energize your playing. Using his song-based approach, Duncan Perry will review the basics, help you work out kinks, and time permitting, add a new technique or two to your ukulele tool box. To enroll in this session, you should be able to make smooth chord transitions, while strumming in the Key of C, and have a serviceable soprano, concert, or tenor size instrument.
2 Monday sessions 
April 6-13, 6-7:30 p.m.
Course Fee: $39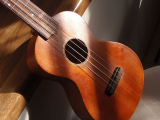 Ukulele for Beginners
with Duncan Perry

Apr 28, 2020 at 6 pm

, runs for 4 weeks
This instrument is versatile and a blast to play. On it you can knock out folk tunes, rock, samba, blues, pop, country, and classical music. The ukulele can go most anywhere with you because it's small and light weight. You do not need to know how to read music.  However, you must have a playable soprano, concert or tenor size ukulele (no baritones please) and an electronic tuner or tuning app on you iPhone or iPad.  If you don't own a ukulele, please contact the Kittery Adult Education Office for helpful information about buying one. Duncan is a multi-instrumentalist who has been playing ukulele for 11 years.
4 Tuesday sessions
April 28-May 19, 6-7:30 p.m.
Course Fee: $77