Filter by Subcategory
Literacy
Registration Unavailable
QuickBooks 2016 Series
Price not
available
with ed 2go
Whether you're a small business owner or an accountant in need of a QuickBooks refresher, this series of courses will teach you the skills you need to navigate the latest version of the software like a pro.
These courses cover everything from creating statements to more advanced functions, including batch invoicing and report generation. And, when you purchase both courses together, you can get them at a discounted rate!
To register or for more details visit:
https://www.ed2go.com/kae/online-courses/online-courses-quickbooks-2016?tab=overview
Registration Unavailable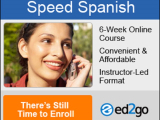 Registration Unavailable
Speed Spanish
Price not
available
with ed 2go
Imagine yourself speaking, reading and writing Spanish. Now you can with Speed Spanish! This course is designed for anyone who wants to learn Spanish pronto. You'll learn six easy recipes for gluing Spanish words together to form sentences. In no time at all, you'll be able to go into any Spanish speaking situation and converse in Spanish. ¡Qué Bueno!
To register or for more details visit:
https://www.ed2go.com/kae/online-courses/speed-spanish?tab=detail